Nowadays, drivers' health, fitness and well-being are essential issues in order to prevent traffic accidents. Several studies have shown that these characteristics are essential to a safe-driving and protect the life and welfare of every road user. However, drivers are not in good conditions to perform this task: sometimes, people use to be affected by physical or psychological disturbances (such as headaches, back pains and discomfort, in general), or simply are "not feeling well".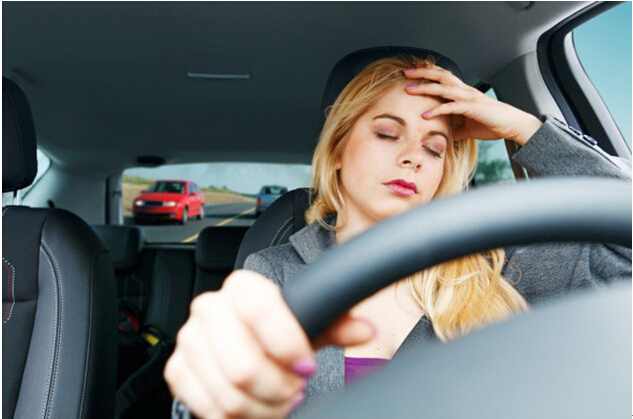 Image source: http://haleyourself.com
A recent study by the University of Valencia has shown that, contrary to what would be expected, many drivers do not use to stop driving, even when they are affected by any emotional or physical disturbance. This study interviewed 1200 Spanish drivers, seeking to develop a characterization of the road risk and habits of drivers along all this country. The purpose of this study was to analyse the frequency in which the drivers who feel physically or emotionally unable to drive decide to perform this task (or to avoid driving) under various states of indisposition, as well as the perception of the effect that this indisposition had on driving.
The results of this research experience have been very interesting: a proportion of Spanish drivers (62.5%) that were not feeling in perfect conditions to drive use to decide avoid driving. However, a very high number of them (37.5%) decided to use the vehicle, anyway. Furthermore, 16.5% of the participants of this study reported that they have experienced inappropriate psychological or physical conditions in the moment of driving their vehicles. Regarding these drivers who use to decide to drive the vehicle, although they are feeling indisposed, 46.9% admitted that they perceive that driving performance is negatively affected by its indisposition. In other words, a large number of drivers use to continue driving. Even when they are not in condition to do so, which is clearly a risky behaviour with clear implications for the road safety.
The lead author, Dr. Francisco Alonso, director of INTRAS (University Research Institute on Traffic and Road Safety) states that "this is not only an issue of perception about what time it is (or not) adequate to driving; moreover, and referring to traffic injury prevention, it should be important to raise more awareness among drivers about the fact that driving under bad -physical or mental- conditions can affect the performance of driving, causing accidents that can carry economic and health costs for themselves and other road users".
Authors:
Francisco Alonso, Cristina Esteban, Jaime Sanmartín, Sergio A. Useche
DATS (Development and Advising in Traffic Safety) Research Group, INTRAS (University Research Institute on Traffic and Road Safety), University of Valencia. Valencia, Spain.
METRAS Research Group (Measurement, Evaluation, Analysis, and Data Processing of Traffic Accidents and Road Safety). INTRAS (University Research Institute on Traffic and Road Safety), University of Valencia. Valencia, Spain.
The original paper of this study has been just published in the Science Journal of Public Health.
Paper information:
F. Alonso, C. Esteban, J. Sanmartín, S. A. Useche. Consistency between the subjective perception of feeling indisposed, the decision to drive and driving performance.
Paper link:
http://article.sciencepublishinggroup.com/html/10.11648.j.sjph.20160406.21.html