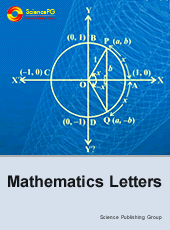 Mathematics Letters
Mathematics Letters (ML)) is devoted to publish high-quality papers dealing with original research on a wide range of mathematical subjects, including almost all areas of pure and applied mathematics. The journal also emphasizes articles dealing with statistics, mathematical aspects of computational theory, as well as applications of mathematics in many branches of science and engineering. For a paper to be considered for publication in Mathematics Letters it is a precondition that it is not submitted for publication elsewhere and contains results that are new, significant and of interest to wide sections of the mathematical community.
Abstracting and Indexing
Launch a New Journal
If you wish to launch a new journal, you need to browse and know the requirements of SciencePG Journal first. On the left menu, you can see detailed information about the journal under "Browse This Journal".
Characteristics of SciencePG Journals:
1. Peer Review: Effective and professional;
2. Frequency: Bimonthly;
3. Open Access: Freely accessible to all the articles.
Process of Launching a New Journal:
1. A journal proposal form should be completed and submitted to SciencePG;
2. The journal proposal form will be evaluated and reviewed by SciencePG within a month;
3. The new journal will be published on the website if the journal proposal form is approved by SciencePG;
4. The Editor-in-Chief will start the journal dissemination and paper collection when the journal is published online.
Responsibilities of the Editor-in-Chief:
1. The Editor-in-Chief should organize a review team to do the review work if there are manuscripts submitted to the journal;
2. The Editor-in-Chief should post new hot topics about his/her proposed journal and invite authors to submit manuscripts;
3. The Editor-in-Chief should make decisions on the acceptance or rejection of manuscripts;
4. The Editor-in-Chief should cross-check the manuscripts and ensure their quality.
Benefits of the Editor-in-Chief:
1. The Editor-in-Chief could get the latest information of SciencePG;
2. The Editor-in-Chief could cooperate with a group of experienced researchers from all over the world;
3. The Editor-in-Chief could get a certificate provided by SciencePG;
4. The Editor-in-Chief could have his/her name and personal webpage displayed on the journal website as the founder of the journal;
Please click here to download the journal proposal form and send messages together with your CV to the email journal@sciencepublishinggroup.com