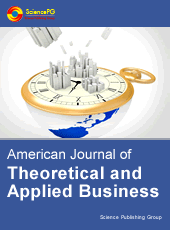 American Journal of Theoretical and Applied Business
American Journal of Theoretical and Applied Business (AJTAB) is a blind-reviewed, open access, both online and print journal, publishes original full-length research articles, review articles, case studies, original brief research articles, literature review, and others. This journal is published quarterly, and it is a global platform for publishing precise basic and applied business, management, marketing, finance, HRM, accounting and its analysis of the rationales. The main focus of the journal is on empirical research which would be helpful in carrying out business research attitude. The journal seeks to prop up communication amongst policy-makers, practitioners and researchers to make out prospective financial decision for the countries. This journal publishes high-quality original research articles and case studies in the areas of international finance, corporate finance, behavioral finance, public finance, stock markets, industrial finance, bank finance, insurance markets, financial management, taxation, accounting standards, auditing standards, etc. The journal is dedicated to improving research openings for the finance and related disciplines in the globe.
Abstracting and Indexing
Journal Article Workflow
Be familiar with the process of article publishing, then you can know exactly where your article is in the whole publication process, such as Article Reviewed, Article Accepted and Article Published. Check your article status here.