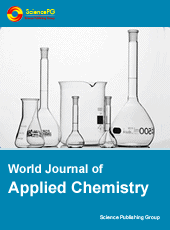 World Journal of Applied Chemistry
World Journal of Applied Chemistry (WJAC) is a blind peer reviewed international journal that provides rapid publication of articles in all areas of applied chemistry and its applications. The journal welcomes publications of high quality papers on theoretical developments and practical applications in Chemical Science. Original research papers, state-of-the-art reviews, and high quality technical notes are invited for publications.
Abstracting and Indexing
Journal Article Workflow
Be familiar with the process of article publishing, then you can know exactly where your article is in the whole publication process, such as Article Reviewed, Article Accepted and Article Published. Check your article status here.