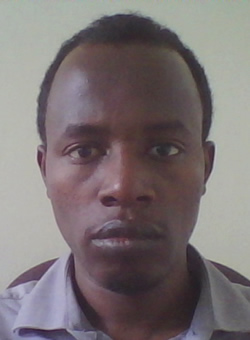 Alemayehu Golla
School of Medicine (Biochemistry Unit), Hawassa University College of Medicine and Health Sciences, Hawassa, SNNPR, Ethiopia
Alemayehu Golla
Educations
From September 2000 to June 2004, Bachelor of Education in Chemistry , Ethiopia
From November 2006 to July 2010, Masters of Science in Medical Biochemistry , Ethiopia
Work Experiences
From 07/2004 to 05/2006, Graduate Assitant I and II , Bahirdar University, Ethiopia
From 09/2010 to 10/2011, Lecturer , Bahir Dar University, Ethiopia
From 11/2011 to Now, Lecturer and Researcher , Hawassa University, Ethiopia
Projects
From 10/2014 to 05/2015, Nephropathy in Diabetic Patients , Prevalence and associated factors of nephropathy in diabetic patients atttending Hawassa University Referral Hospital. The finding of the project will help physicians to manage and treat patients.
Speciality
Medical Biochemistry
Book
Cigarette Smoking: the major risk factor for development of progression of chronic obstructive pulmonary disease (COPD).
Journal Articles
Thyroid function profile, and its association to consumption of cassava and Moringa stenopetalain pregnant women. Advances in Biological Chemistry, 2013, 3, 448-4543